First Grade Addition strategies are the foundation for many other math skills. When you teach addition to your first graders, you'll want to be aware

of the Common Core / TEKs standards to help your students get the most out of your lessons.
To see the First Grade Addition Strategies Standards for the Common Core and the TEKS, click the image above.
Vertical Alignment for First Grade Addition Strategies is so important when planning your lessons.  You need to know what your students should already know and what they should know when their first grade year is over.  Vertical alignment looks at the Kindergarten Standards as well as the Second Grade Standards.  It sets you and your students up for SUCCESS! Click the image above to see the Vertical Alignment.
3. The Breakdown: First Grade

Addition Strategies
When first graders leave first grade, they should be able to:
add within 20 using pictures, words and numbers (use make a ten strategy when possible)

solve word problems within 20 (word problems will be covered in a separate post)

solve addition number sentences and word problems with numbers missing in all positions (communitive property)  2 + 4 = [ ]; 3 + [ ] = 7; [ ] + 2 = 8

compose ten with two or more addends without concrete objects

Use the associative property to solve problems Example:  3 + 8 = 11 (3 + 7 + 1 = 11) Use 3 + 7 = 10 so 10 + 1 = 11
Use addition Fact Fluency Strategies: count on, make a ten, associative property, related facts, doubles/doubles +1
Understand the Equal Sign (3 = 6 + 6 / 7 + 2 = 2 + 7)
There are a few more objectives which will be covered in the Word Problems post.
Students also should know:  
counting forward within 20

counting on strategy
If your students don't know or remember these strategies, they are easy for most kids to relearn.
First Grade Addition Strategies Recommended Progression:
Review ways to Make Ten (Friends of Ten)

Addition Doubles and Doubles +1

Addition to 10, 12, 15, 18 and 20 (use make a ten strategy when possible)

Add 3 Numbers ( find a 10)

Missing Addends
Addition Strategies Manipulatives – The words "Using CONCRETE MODELS" are used over and over in the standards when the focus is on addition and subtraction.  Make sure you have some kind of manipulatives for your student to use to practice.  Every student should start with them, but some won't need them as much as others.  Students should use manipulatives as long as necessary.  Students with learning disabilities may always need manipulatives. For this reason, they may be part of their IEP.
The RIGHT Manipulatives: 
Two Sided Counters

Unifix Cubes

Snap Cubes 

6 Colored Disks
2 Sided Counters, Snap Cubes and 6 Colored Counters are my favorites!  But, use whatever you have.
Ahead of time, place 20 Snap Cubes in a baggie, ready to pass out to students. (10 of one color & 10 of another to show the two addends.)
For the disks, 30 per bag, 3 different colors.  These work great for Add 3 Numbers or Compose a 10 using 3 addends.
4. The Teach: Let's start at the beginning – Basic Addition Vocabulary
Sum – The answer to an addition problem
Addend – the numbers added together to get the sum
Plus Sign -Putting together
Equal Sign – Same value
ADDITION TERMS
Click the image to grab these for FREE.
Mini Lesson Idea:
Create an Anchor Chart and label the following. Show horizontal and vertical number sentences:
Addition Sign

Equal Sign

Addends

Sum

Number Sentence / Equation / Solution Sentence (used interchangeably)

Missing Addend
Use this formal vocabulary when discussing addition strategies.
Anchor Chart Information
Create an Anchor Chart by writing a solution sentence on a large piece of chart paper.  After going over each of the vocabulary terms from above, have students help you label each of the parts of an addition Solution Sentence. 

Compose with 2 or More Addends – A Fun Addition Strategy Activity:

using concrete or pictorial models.

 
Directions:  Group your students into threes.  Give each student a set of 4 cubes or disks.  Each student has a different color.  Have the students number off.  Student number 1 adds cubes to the counting mat. (4 max to that other will be able to add to the mat)  Then student 2 does the same.  Finally, student number 3 adds the final amount to reach the sum of ten.  
Example:  Student 1:  4 cubes, Student 2:  2 Cubes, Student 3:  To reach the sum of ten, student number 3 must add 4 cubes since 4 + 2 + 4 = 10.  Students will record the number sentence on the recording sheet provided.  
Click the image below to grab this fun activity for FREE.
First Grade Addition – Basic Facts Strategies:
The following is a list of the Basic Fact Strategies mentioned in the Standards.  Each has an idea for teaching the skill.
Working with the Friend's of Ten –
This is a kindergarten standard, but in my experience, most first grade students do not have these memorized.  Once they do memorize them, addition and subtraction get a little bit easier.  I make sure to offer lots of practice with the Friends of Ten.  They love this skill! Below are some resources I offer in my TpT Store that have been effective for working with ways to make ten.
Counting On

Strategy

–
These posters explain how to use the counting on strategy for basic addition and for solving for the missing addend.  Click the image to grab these FREE Posters!
Bridge to Ten – First Grade Addition Strategies –
Another clever strategy to use is Bridge to ten.  This strategy works with sums over ten.  This works best when using blank ten frames.  The idea for bridge to ten is to add enough to one added to get to ten.  You do this by taking from the other addend.  Then it is easier to add using a 10.  Example:  7 + 8 = 5 + (2 + 8) = 5 + 10 = 15.  The Associative Property of Addition is used here. When using ten frames it is easy to see this in action.  See image below. This is an interactive math notebook that is available here.  
Related Facts or Fact Families –
Knowing Fact Families, makes addition much easier to grasp.  It goes to the relationships of numbers.  The standards no longer use the term Fact Families.  Instead they are referred to as Related Facts.  Since families are related, they are still fact families to me. 🙂 And kids enjoy the term as well.  The addition facts display the Communitive Property of Addition.
Doubles and Doubles Plus One –
Kids learn their doubles pretty fast because there are really only 10 facts to learn and they probably already know 1+1, 2 + 2 ,5 + 5, and 10 + 10.  That leaves only 6 facts to learn.  But, kids really start learning their facts when they can apply the doubles strategy and add one to one of the addends.  If 5 + 5 = 10, then 5 + 6 = 11 (doubles plus one) If 5 + 5 = 10, then 5 + 7 = 12 (doubles plus 2)  I like to think of it as adding one to each addend making it 6 + 6 = 12.  This actually turns the number sentence into another double. 
Grab a  FREE resource below.
Addition Strategy – Missing Addends –
Kids struggle with this skill the most because it abstract.  Using manipulatives help, a lot!  It also helps to start teaching this difficult skill right away.  While you are working on sums to ten, switch around an easy one, like 9 + 1.  Say, We know that 9 + 1 = 10, right?  Then I bet you can figure out 9 + [ ] = 10.  As soon as your students learn the process of addition, put missing addend math centers in the rotation.  They will grow so much by practicing daily. 
5. The Practice: For kids to have fact fluency, they must practice, practice practice.  Is your teacher toolkit full of fun and engaging ways for your students practice addition facts?

There are so many ways to practice addition facts.  Using games is one of my favorites.  Kids LOVE games, and when they are practicing, they sometimes don't realize that they are learning! Here's a fun Free resource for practicing Doubles and Doubles +1!  Click on the image to grab it.
Another fun game, in which Flash Cards are used, is Around the World.  It's a very competitive game where one student starts by facing off with another student as the teacher flashes the card.  The student who answers first gets to move on to the next student.  The student that makes it all the way around the room, back to where they started, is the winner.  Since you get to choose which flash cards are used, you get to determine the level of difficulty.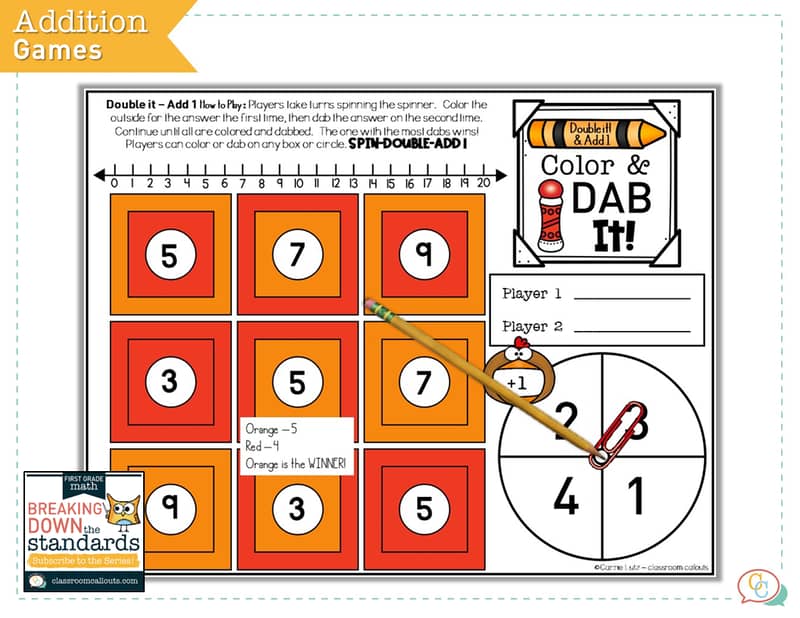 More Addition Practice Resources: 
Click here to read my Blog Post about Using Boom Cards.  
6. The Small Group Instruction: From Manipulatives to Memory
I like to see my students go from counting objects such as fingers, counters, cubes, etc., to committing the facts to memory.  Especially sums to 10.  This is a great objective to have for your small group.  In order to do this, you need to scaffold their instruction.  If necessary, start with sums to 5, then to 10, then 12, 15 then 20.  If they learn the sums to 10, all the others will be easier.  So, focus your energy there.  Sums to 10.  Use Flash Cards and Practice, Practice, Practice.  Give awards for students showing growth.  Grab these FREE Student Incentives.
 

7. The Learning Centers:  Basic Addition Facts Practice
If you are like me, you always have something related to addition and subtraction in your math rotations.  First of all, it's a necessity.  And second of all, it is EASY to do.
I strongly believe in adding Missing Addend centers as soon as possible.  This means that your students are practicing addition, but at a higher level.  And, working with missing addends is actually working with subtraction, as well. Bridge to Ten or activities that use the associative property of addition are also engaging practice for learning centers. 
Here are some great resources for learning centers from my friend Carol (The Chocolate Teacher) 
Online Games:
Splashlearn has many Addition Games
8. The Fun – Shake and Spill Basic Addition Facts.

Shake and Spill is a fun and easy addition activity teachers can put together in a snap!  Grab this FREE Shake and Spill Recording Sheet to learn how.  
This Shake 'n Spill Activity requires 2 Sided Counters.  Use my trusted link to check them out.
More Fun Addition Resources: 
Don't forget to pin the image below to your Teaching Resources board for future use.
Click on the link below to sign up for notifications of new posts from the Breaking Down the Standards Series AND Grab a Free Add 3 Numbers Make a Ten Activity! 
Thank you for stopping by!
-Carrie Lutz
Disclosure: Carrie Lutz is a participant in the Amazon Services LLC Associates Program, an affiliate advertising program designed to provide a small commission on products purchased through Amazon.com and other affiliated websites. You do not pay more when purchasing products through these links.